Reliable Grid Connection with Vestas' Electrical Models
Author
Power System Integration Module; Applications, Controls and Electrical Team
Increasing Need for Accurate Electrical Models
The ongoing expansion of renewable energy production calls for evolving ways of operating today's power systems. An increasing penetration of inverter-based resources (IBRs) requires accurate modelling of the electrical performance of such components to assure compliance with grid code requirements through electrical simulation studies, ultimately securing stable power system operation.
Electrical models are nowadays essential to allow replication of different grid phenomena in bulk power systems. The increasing need for further detailed power system simulation and analysis is imposing stricter electrical models' requirements by grid operators globally.
Simulating Vestas' Products Electrical Performance
At Vestas we develop state-of-the-art electrical models suitable for a range of commercially available power system simulation tools. Through digital-twin solutions we enable accurate modelling of the electrical performance of Vestas' products, covering a wide range of Vestas wind turbine generators and power plant controllers' electrical models.
Based on the integration of the control software source code of our products into our electrical modelling environment, Vestas develops electrical models that reliably represent the electrical performance of our products. The configuration of Vestas' electrical models (e.g., grid code parameter settings) is also integrated with our product development framework to ensure that models are mirroring the on-site configuration of our wind turbines and plant controllers. Our models are validated against product on-site field measurements, as well as in a set of lab and simulated environments with hardware connected in the loop.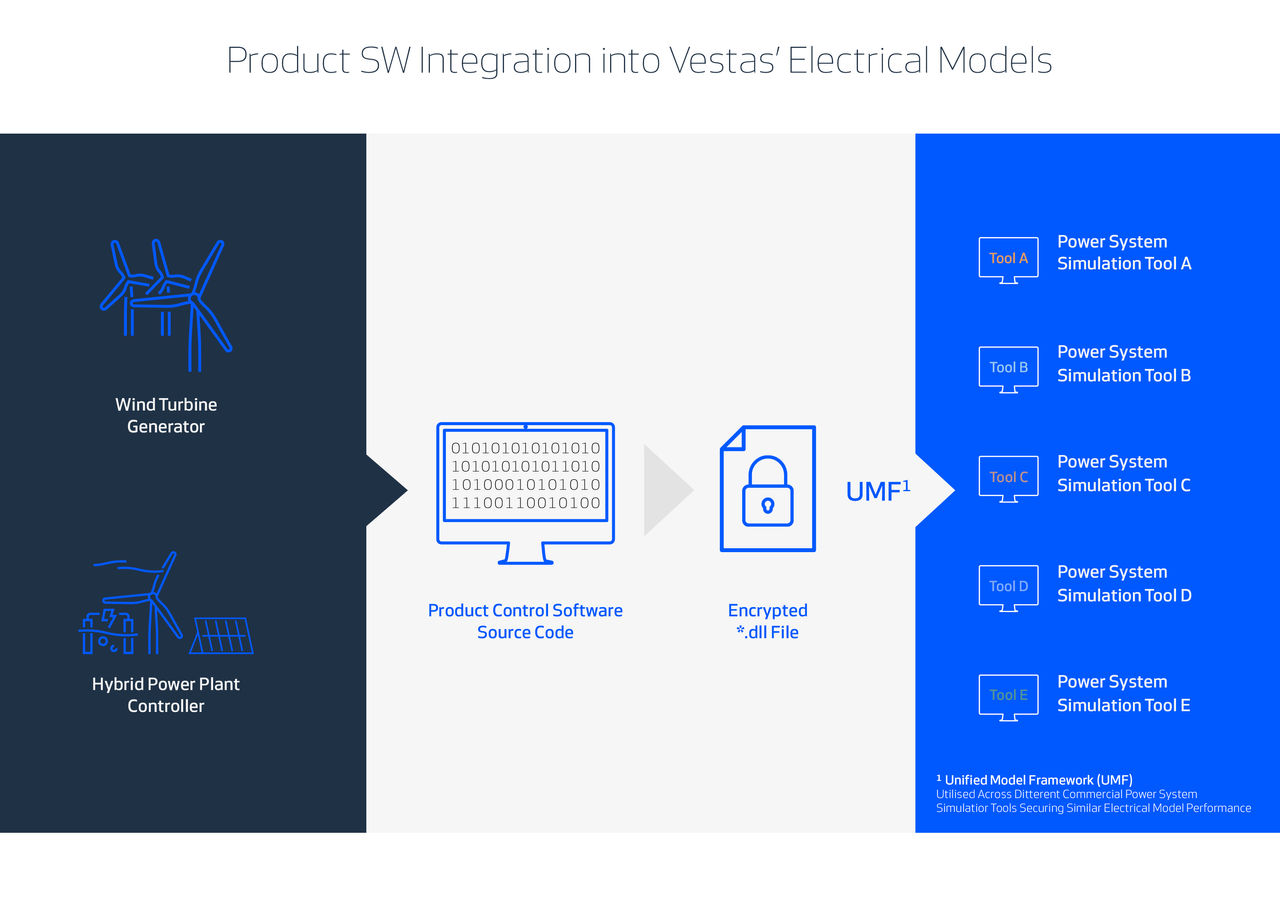 Vestas' electrical models are furthermore an excellent and proven framework for the development and testing of new product functionalities in simulated environments allowing for best-in-class quality standards and reduced development costs.
Delivering Trusted Electrical Models Worldwide
Regularly updated and trustful electrical simulation models are essential to secure a smooth grid connection and operation of renewable power plants. At Vestas we deliver electrical simulation models globally that meet the highest grid code standards from system operators allowing for on-time grid connection even in market with the most challenging grid conditions.
You can learn more about our Passion for Power System Integration in the video on the left.

Come join our Power System Integration department and #PowerTheSolution by applying to our open positions at Vestas.